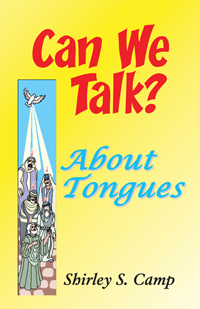 As Shirley Camp speaks from her heart and the word of God, you will have the mysteries of God unfold in a new way.  

  Rev. Camp's style of teaching is both revelatory and scriptural. She has mastered the techniques of "reaching" and "imparting" through the anointing of God. You will enjoy this book. Learn from it. Share what you learn with others. This is the real stuff. 

 Whether you are a believer desiring a greater understanding of the gift of tongues for your personal life, or you want wisdom to share this wonderful Promise of the Father with others,  this book is for you!
Item SCB-01 Price $8.99