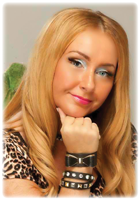 Prophetess Kelly Crews
Prophetess Kelly Crews is the CEO and founder of Kelly Crews Ministries. The vision and passion of this ministry is to proclaim the saving, healing and delivering power of Jesus Christ worldwide. Dynamic drives home her message with an anointing that penetrates darkened areas of the soul to release believers into the sure word of prophecy. A gifted singer, Prophetess Crews is able to reach depths in God that go beyond mere preaching. You must experience this.
Kelly Crews Ministries was birthed in 2003. She knew she was given a great mandate to boldly speak the Word of the Lord and it could not be ignored. Kelly has had to overcome devastating adversity in her life from the time she was a child, but never let the challenges obstruct God's calling. Through this ministry, God allows her to travel all over the nation preaching, teaching, singing and prophesying the Word of the Lord.

Prophetess Kelly has authored and published four books: "Designers Original", "Maximize Your Life", "You're Priceless" and "I Thought He Really Liked/Loved Me... What Happened?"

Some words to describe the ministry of Prophetess Kelly would be impacting, dynamic, radical, life-transforming, challenging, power-packed, revelatory, relational and real. God uses her voice as an instrument to shift atmospheres and bring change to people, houses and regions.

She has served in leadership for many years in the Cleveland and Akron, Ohio area. She currently serves with Bishop Anthony Dixon, True Holiness Temple in Cleveland, OH.

Prophetess Kelly says that she has taken all the limits off of God. As she is continually giving God glory, the sentiments of her heart are simply this: "Lord, please don't ever take your Spirit from me, for I am nothing without you. She has committed her life to glorifying God by going wherever she goes. Accordingly, her personal life and ministry truly exemplifies the saying, "Lord, I'm available to you!" She is the proud mother of two beautiful children, Jordan and Makayla, who are her pride and joy.